Spiders infest house in enfield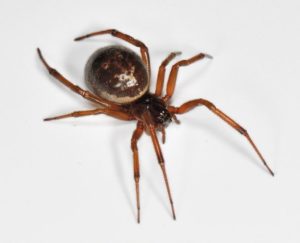 Today we had a distressed call from a couple in Enfield who's house is 'being taken over by spiders'.
We sent an engineer out to them to carry out a fumigation treatment.
On arrival he carried out a thorough inspection of the property and in his words 'there were a LOT of spiders throughout the property'.
He found a large number of spider egg cases in various areas, many of which had already hatched out with spiderlings crawling across ceilings and down walls everywhere.
TIME TO BRING OUT THE BIG GUNS….
The occupants were asked to leave the property and stay out for 4 hours following the completion of the fumigation.
He went in guns blazing with our new ULV machine ( the way he explained it, he went in Rambo style), going through every room in the house blasting the arachnids.
From start to finish the job took around 90 minutes to complete.
By the time the treatment was completed, these not a live spider to be found in the property. The fumigation also had the added benefit of exterminating any insect pests that may have been inhabiting the property at the time.
We have great deals on spider control with the average 3 bedroom property costing a lot less than you'd for a full treatment.