False Widow Spider Removal in Barnet
Professional False Widow Spider Removal and Control in london we offer free Spider Inspections and eradication we have Spider exterminator Technicians near you today for a fast response to your enquiry.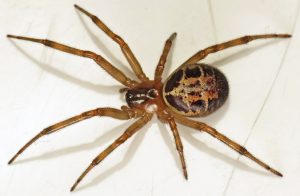 Live in Barnet? Having trouble with false widow spiders? Want to get rid of them? You've come to the right place. When it comes to false widows, False Widow Spider Removal Barnet offer an efficient, high-quality removal service. Our well-equipped team of professionals are highly experienced in the removal of these nasty creatures and guarantee that you'll be over the moon with our service. We offer this high-quality removal service at the best value, so don't think you need to compromise between cost and quality. Call False Widow Spider Removal Barnet today on 0203 369 3260 and we'll leave your building totally free from false widow spiders in no time at all.
If your house is infested with false widow spiders, this can be particularly stressful. Like any type of arachnid, living with false widows can be very distressing for those who have a significant phobia toward spiders. More importantly, false widow spiders are poisonous and when they bite it can be particularly painful. These bites have been known to cause allergic reactions in some, which can be particularly serious. It's important that you don't take a chance with these spiders, as doing so poses a potentially serious risk to you and anyone in your building. If you have come into contact with false widow spiders in your UK property then call us immediately and have our experts take care of them.
Generally speaking, most spiders, including the false widow spider will want to inhabit your building in the Autumn, due to the decreasing outdoor temperature. Sometimes referred to as the 'Cupboard Spider', these creatures like to hide and nest in dark and quiet areas around the house or in garden sheds. If false widows are inhabiting your property, you will often find them in such places. These spiders can be identified by their droppings which look rather like small splashes of paint on the floor. If you think your property is infested with these spiders then give us a call us as quickly as possible. Our team are experts at identifying and removing false widow spiders and will get rid of the spiders in your building once and for all. We have dealt with all kinds of infestations over the years. Our team will swiftly assess your particular false widow problem and tailor a solution that is right for you.
We understand how disturbing having to live with false widows can be, which is why we use only what is necessary to get rid of them for good as soon as possible at a reasonable cost. Call False Widow Spider Removal Barnet now and make false widow spiders in your home a thing of the past.